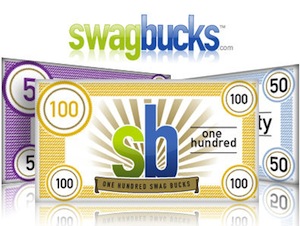 Are you a member of Swagbucks yet? If not, they're running an awesome promotion for new users! You'll get a total of 100 Swag Bucks when you enter promo code BIGTIMEBUCKS on the sign up form.
Starting on Monday, they'll also be hosting a Swag Code Extravaganza, where they'll be offering seven different codes throughout the day! You can earn a total of 60 Swag Bucks for entering these codes. HINT: The first code will be announced on the Swagbucks Twitter feed at 6am PT on Monday. So, if you aren't already, be sure to follow Swagbucks on Twitter!
---
Okay, so what is Swagbucks? Swagbucks is a search engine where you get rewarded for doing things like searching the web. The rewards are in the form of Swag Bucks, which accumulate in your account until you "purchase" a reward.
You can exchange your Swag Bucks for Amazon gift cards (my favorite :-)), Starbucks gift cards, or even a PayPal payment! This is my favorite way to earn more for doing the things you're doing anyways. 🙂
Are you a member of Swagbucks? What's your favorite way to earn?