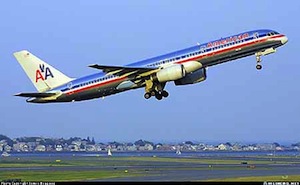 Two for one deals and FREE samples might whet your appetite, but how about scoring a FREE plane ticket?
You can fly for FREE this summer with a little help from some financial products. Sure, banks have gotten a lot of flak from consumers lately, but if you like to travel for FREE, we have five reasons you might like them a little more.
Credit Karma, the consumer credit advocate, rounded up five cool bonus banking offers to score 25,000 airline miles for FREE, enough for one FREE flight! Now, get ready to pack your bags!
Shop and Soar: Organic Style offers you 10 FREE Delta airline miles for every dollar spent, so if you rack up a $2,500 bill, you'd earn 25,000 FREE airline miles to soar on. If you enjoy shopping, it's an easy way to get a FREE flight over a few months.
Cash in With a Credit Card: The Southwest Airlines Rapid Rewards Plus Card offers 20,000 bonus miles after the first purchase! The rewards program lets you earn 2 points on every $1 spent, plus 3,000 points every year on you cardmember anniversary. For those of you who are frequent flyers of Southwest, it's a great way to score a FREE flight and earn more.
Trade for a FREE Flight: TD Ameritrade offers 25,000 United Mileage Plus rewards for opening a new account and funding it by September 30, 2011. If you're planning to trade, this incentive makes TD Ameritrade worth checking out.
Save To Earn Miles: Fidelity Investments offers 25,000 miles when you fund a new, non-retirement account with at least $50,000, or score a whopping 50,000 miles if you fund with $100,000. Good for American Airlines flights. If you've been meaning to open an account, here's another reason to start saving up.
Nab Miles with a Mortgage: Lending Tree has partnerships with multiple airlines through which you stand to earn 25,000 FREE miles by financing a $200,000 home loan with Lending Tree. With the right loan, you could get the home of your dreams and nab a FREE plane ticket. While you might be focused solely on scoring a FREE plane ticket, make sure the financial product you're applying for is the right option for you; know the products terms and conditions, or you might land yourself in a world of unexpected fees.
Happy FREE-flying!
Justine Rivero is the Credit Advisor and resident Credit Rockstar for Credit Karma, the pro-consumer credit advocate that helps more than 2.6 million consumers realize the everyday cost savings of having great credit health.
Thanks, Credit Karma!