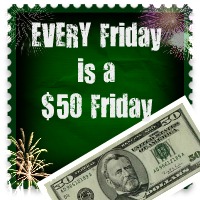 Everyone loves cash, right? How would you like a chance to win $50 every Friday? I'm excited to tell you that I've joined up with an amazing group of bloggers to offer you a weekly cash giveaway!
The giveaway begins this Friday, January 6th. It's open from 12:01am, and will close at 12:01am on Saturday. You only have one day to enter.
This week, you have two separate Friday events; a group A and group B. That means you could win $100, if you're lucky!
This week's $50 Friday will be for Twitter follows. I suggest you follow the blogs now so you're ready for Friday, and you don't have issues with being Twitter blocked.
Participating Bloggers
Group A
Follow @Savingsandmore
Follow @adventuresof8
Follow @kassieinTX
Follow @insightsbyapril
Follow @MsMissy62
Follow @wrightgregory
Follow @theblogcafe
Follow @kouponkrazed
Follow @upcycledcrapbk
Follow @beachmonkeys
Follow @ peasandpickles
Follow @markyoursavings
Follow @kristinnw
Follow @Dinade
Follow @Weidknecht
Follow @rockinhotdeals
Follow @source1supplyco
Follow @sweepingtheusa
Follow @StyleDecor
Follow @fingerclicksave
Follow @CouponQueenofTX
Follow @BayAreaMommyCom
Follow @carftymomof3
Follow @teachme2save
Follow @LifesCheap
Group B
Follow @gibsoncouponer
Follow @Adventuresof8
Follow @debbiemc18
Follow @swscissors
Follow @CMMStyle
Follow @teachme2save
Follow @carftymomof3
Follow @fruglxperiments
Follow @MartinsvilleMK
Follow @practicalsaving
Follow @ melcoleofpausa
Follow @ShoreSavingsPat
Follow @Gklippingkrazy
Follow @odouglass11
Follow @MommaBranam
Follow @fullpriceNEVER
Follow @goodstewardsvrs
Follow @freebieprincess
Follow @gypsiesthread
Follow @LifeHpnsWitKids
Follow @roxannajolly
Follow @jkrugel
Follow @divineonadime
Follow @iamacouponer
Follow @frugalfinders
To be sure you have the chance to enter this week and other weeks we run the giveaways, here's what you should do:
Sign up for my daily email updates. You'll get an email letting you know that the giveaway has been posted and you can enter.
Like Frugal Finders on Facebook. The event will be Tweeted, posted on the blog, and posted on Facebook as well. I still encourage you to sign up for daily email updates though.
Follow Frugal Finders on Twitter.
And mark your calendar every Friday to see if I've posted a new giveaway!
Come back on
FRIDAY
to enter!