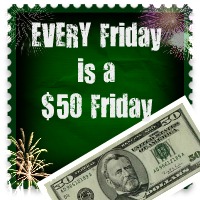 Everyone loves cash, right? How would you like a chance to win $50 every Friday? I'm excited to tell you that I've joined up with a group of bloggers to offer you a $50 cash giveaway today!
The giveaway is only open today, so make sure you hurry! This week, we have two separate Friday events; a group A and group B. That means you could win $100, if you're lucky!
To be eligible to enter for a chance to win, 'Like' all of the blogs below on Facebook, then fill out the Rafflecopter form.
Africa's Blog

Adventures of My Family of 8

The Kids are Grown, Now What?

Angie's Help Network

Daily Mom Deal

Planet Weidknecht

Insights by April

Debbie Does Coupons

Deal Doll

Frugal Finders

Hott Mama in the City

Klippin Krazy Koupons

Gypsy Mama Logs

Keenly Kristin

Martinsville Macaroni Kid

Lemonade Mommy

Shore Savings with Patti

Krazy Clippers

About a Mom

Been There Done That, with Kat

Full Price? Never!

Freebie Princess: Stick with Me, Get it Free!

Sweeping the USA

Fabulous Deals & Steals

Imperfect Women

1FrugalMom

In order to be eligible to win this giveaway, you must:
Follow each blog above (as stated)
Put Frugal Finders as your answer to entry #1 (in the entry form).
Fill in the entry form below, clicking I Did It!