If you follow me on Instagram or Twitter, you may have known that I was attending the Savvy Blogging Summit last weekend. I learned a ton of tips and tricks to help make Frugal Finders even better, and I got to spend time with some of your other favorite bloggers! It was an absolute BLAST and I can't want for next year's Summit!
Anyways, I returned home this afternoon after a long day of traveling. (Note to self: don't fly through Chicago O'Hare again!) I decided to run out and grab a few deals from CVS and Target, and thought I'd share with you. 🙂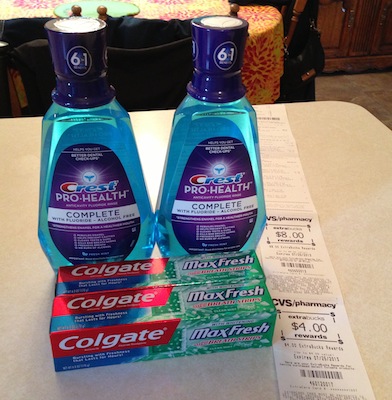 The first stop I made was at CVS. I was able to pick up some free mouthwash and toothpaste this week by using coupons with ExtraBuck offers! Here's what my transaction looked like:
Buy 2 Crest Pro Health Mouthwash, 1 L – $4.99
Buy 2 Colgate MaxFresh Tootpaste, 6 oz – $2.99
(2) $1.10/1 Crest Pro-Health Rinse coupon
$2/2 Colgate Toothpaste printable coupon (no longer available)
Paid with $11.76 in ExtraBucks
Received $12 back in ExtraBucks
Amount Saved: $22.56
I was going to pick up a couple other deals to be able to use my $6/$30 coupon, but sadly, my store was out of stock on those items.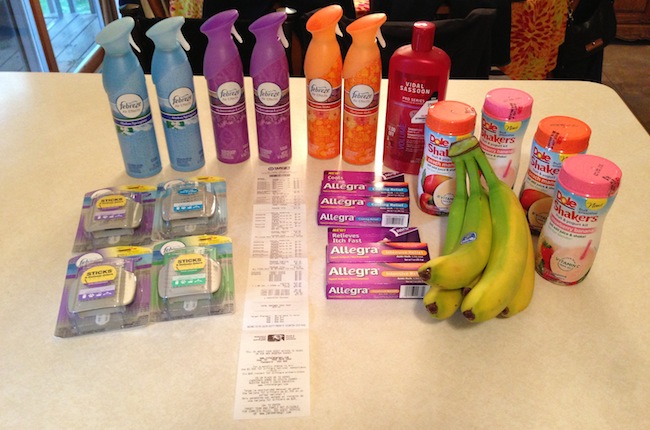 Next stop: Target. I had a $5 off a $50 purchase Target coupon from a previous home mailer that was expiring today, so I had to use it. 😉 I think I really rocked the deals at Target tonight! It felt so great to see that total keep dropping.
Here's what I got at Target:
5 Bananas
4 Dole Smoothie Shakers
Vidal Sassoon Shampoo
4 Allegra Anti-Itch Cream
6 Febreze Air Effects
4 Febreze Stick and Refresh
Before coupons, my total was $57.25. I used a $5 Shopkick gift card to lower my out of pocket cost to $11.86, then I received $10 back in Target gift cards from the Febreze deal. So I really paid only $1.86 for everything! My total savings was $54.94. 😀
How are your shopping trips going this week? Leave a comment and let us know!