It's been a while since I shared my last shopping trips with you! There are some great deals this week at Walgreens, CVS, and Target, so I thought I'd share this week's trip. 🙂
Walgreens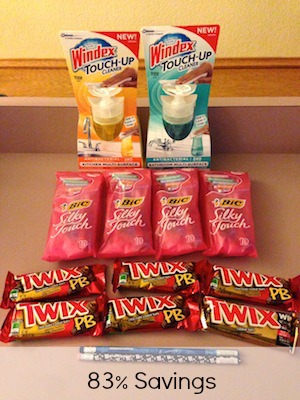 I was able to pick up all of the above for just $5.11 (including tax) after coupons, Balance Rewards savings, and Register Rewards! Here's what I did:
Items
Buy 2 Windex Touch-Up – 2/$7
Buy 4 Bic Silky Touch – $3.99 B1G1 50% OFF
Buy 6 Twix Bars – $0.49
Buy 2 Designer Pencils – $0.25 each
Coupons
Use 8/$1 Designer Pencils Walgreens in-ad coupon (deducts $0.25)
Use (4) $3/1 Bic Disposable Razor, exp. 9/8/13 (SS 08/11/13) (last coupon will need to be adjusted down to $2.96)
Use (3) $0.50/2 Twix Brand Cookie Bars printable
Use (2) $1.50/1 Windex Touch-Up Cleaner Product, exp. 9/8/13 (SS 07/28/13 #2 R)
Used (2) $2.50 Register Rewards from Colgate (last week's sale)
Subtotal: $0.69
Sales Tax: $1.42
Total Due: $2.11
Redeemed 2000 Balance Rewards points
Paid $0.11
Received a $2 Register Reward from Windex Touch-Up
I really ended up paying $5.11 for all of those items, including tax. That's an 83% savings! 🙂
CVS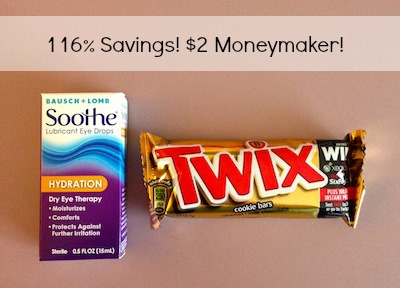 I didn't see very many CVS deals this week, but I ran in to roll some of my ExtraBucks on the Soothe deal. I was really excited when I stumbled upon this unexpected moneymaking deal!
The Soothe pictured above wasn't tagged at my store, so I took it to the red coupon machine at the front to check the price. It rang up on clearance for $5.74 and still triggered the $5 ExtraBucks! 😀
So here's what my transaction looked like:
Buy Soothe Hydration Dry Eye Therapy – $5.74 (clearance)
Buy Twix Bar – $0.99
Use $3/1 Bausch + Lomb Soothe Dry Eye Product printable
Use $0.74/1 Mars Candy CVS CRT from the coupon machine
Used $2.50 in ExtraBucks from previous weeks
Paid $0.49
Received $5 ExtraBucks from Soothe
This turned out to be a $2.01 moneymaker for me, after ExtraBucks! Woohoo!!
Target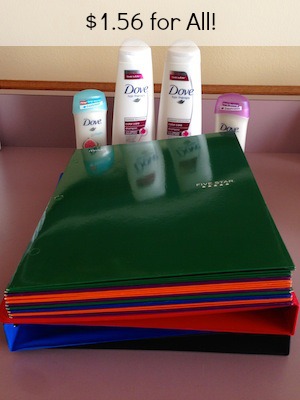 I popped into Target to pick up some school supplies and Dove personal care products. I ended up paying only $1.56 for all of the above after coupons and gift card!
Here's what I did:
Items
Buy 2 Dove Shampoo/Conditioner – $2.99
Buy 2 Dove Deodorant – $3.79
Buy 10 Mead Five Star Folders – $0.50
Buy 3 Up & Up 3-Ring Binder – $1
Coupons
Use (2) $1/1 Dove Hair Care Product printable
Use (2) $1/1 Dove Go Sleeveless, Go Fresh, Cleartone Anti-Perspirant/Deodorant, exp. 8/25/13 (RP 07/28/13 R)
Use (2) $2/2 Dove Personal Care Item Target printable*
Use (2) $1/2 Mead Five Star School Supplies Target printable*
Use (3) $1/2 Mead Five Star School Supplies printable
Use (2) $1.50/1 Up & Up School Supplies Item printable (automatically adjusted to $1)
Pay $6.56
Get back a $5 Target gift card for buying 4 Dove products
Final Price: $1.56 for everything!
*My Target allows multiple like Target coupons in the same transaction. Your Target may not allow the same.
Have you gone shopping yet this week? How did your trip go? Share with us in the comments!