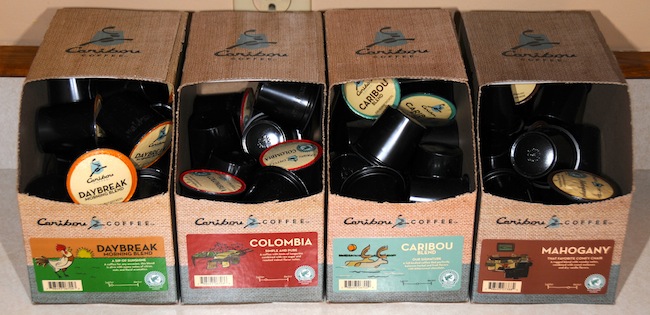 I recently got the opportunity to sample three of Caribou Coffee's best K-Cup blends of coffee from Cross Country Cafe. The three flavors I received to sample were Columbian, Mahogany, and Caribou Blend. They were all excellent!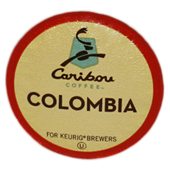 The first variety I sampled was the Columbian coffee. This coffee is full of sweet caramel flavors, and was very smooth. It's a great choice of coffee for any time of day.
Mahogany is a darker brew that is roasted to perfection. This blend is refined with raw honey and the sweetness of vanilla. This coffee would be a great choice with your favorite dessert!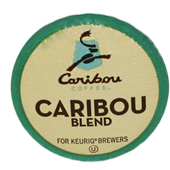 The Caribou blend, my favorite of the three I sampled, blends the syrupy taste with a snappy finish. For use in a Keurig single cup coffee maker. This blend is a great choice at any time throughout your day.
The great thing about these K-Cups is that you can enjoy the taste of Caribou Coffee from the comfort of your couch! You can brew a cup of fresh, gourmet coffee from your Keurig brewer in about a minute. We've owned a Keurig for a few years now, and I think it was a great investment. You can brew your own cup of coffee for about $0.50 (or less) instead of paying $3-$4 at the coffee shop!
Cross Country Cafe carries over 80 different varieties and flavors of K-Cups, so you're sure to find a flavor that you like. They have good prices and some awesome Wacky Wednesday sales, so keep your eyes out for those! I'll be posting them on Frugal Finders most weeks.
Don't want to wait until next Wednesday to save? They have provided me an exclusive coupon code for Frugal Finders readers! You can get half off shipping with the purchase of 4 boxes of K-Cups with coupon code FRUGALFINDERS.
---
Cross Country Cafe has graciously offered to give one lucky reader 2 boxes of K-Cups in the flavor of their choice! To enter this giveaway, simply fill out the Rafflecopter form below. The only requirement is that you leave a comment on this blog post; all other methods are optional.
If you're reading this post via RSS or email, please view the giveaway post on my blog to enter.
a Rafflecopter giveaway
The giveaway will run through November 2nd, 2012 at 12:01am EST. The winner will be selected randomly and will be notified via email within 48 hours after the close of the contest. Must be 18+ to enter and reside in the United States.
This giveaway is sponsored by Cross Country Cafe. All opinions are 100% mine and have not been influenced by other parties.