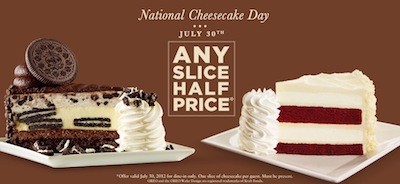 Uh oh! 🙂 The Cheesecake Factory is celebrating National Cheesecake Day on July 30th. They're offering half price slices of cheesecake all day!
Swing by your Cheesecake Factory and grab a slice or two. You can't beat the White Chocolate Raspberry Truffle or Red Velvet cheesecake!
'Like' The Cheesecake Factory on Facebook, and you can have this offer extended through 7/31/12. Limit one slice of cheesecake per guest.