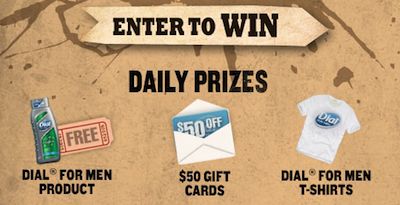 Remember that Dial for Men sweepstakes I posted about the other day? Well, just yesterday, I got an email confirming that I won a coupon for a FREE bottle of Dial for Men! 😀
If you haven't yet entered, be sure to do so now!
---
Head over to the Dial for Men Facebook page, 'Like' them, then enter the Dial for Men '30 Days of Dirt' sweepstakes! You'll have the chance to win the following prizes daily:
2 Dial for Men T-shirts
4 $50 gift cards to Home Depot, Sears, Lowe's, or Cabela's
50 FREE bottle of Dial for Men coupons
Good luck, and be sure to let us know if you win!