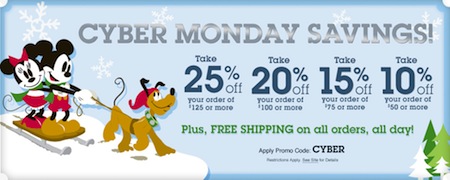 The Disney Store has some great offers for Cyber Monday! Use coupon code CYBER to get FREE shipping, plus the following discounts:
25% off orders of $125
20% off orders of $100
15% off orders of $75
10% off orders of $50
One of the best deals I see is PJ Pals and Nightshirts for just $8 shipped! Look for this offer right below the Cyber Monday image on the homepage.
Looking for more Disney Store coupon codes? Check out my online coupon codes database!
Thanks, Southern Savers!