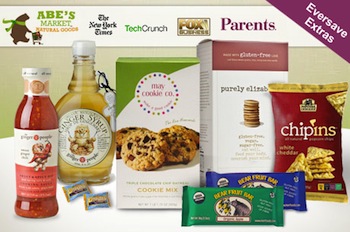 Through September 29th, Eversave is offering a $50 voucher to Abe's Market for $25. If you're a new Eversave member, you'll receive a $3 credit when you sign up for an account, which would make this only $22!
Abe's Market offers a variety of natural, chemical-free snacks, beauty products, pet supplies and more. They also carry vegan, gluten-free, dairy-free and kosher foods, so everyone is bound to find something!
May buy up to 2 Saves. Cannot be combined with other coupon codes. FREE shipping for orders over $49 before voucher is applied. $3.99 flat rate shipping applies for orders under $49. Code available immediately after purchase on Eversave. Promotional value expires on Dec 31, 2011.