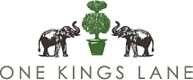 Wow! You'll definitely want to head over to One Kings Lane and sign up for an account today. They're giving everyone who joins a FREE $15 credit! This should make for some freebies, though it won't apply to shipping.
Most of what I saw that was priced under $15 is now sold out, so hang on to this credit for another deal. Their new sales start at 10am CST (11am EST).
Thanks, Passion for Savings!