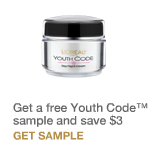 Head over to the L'Oreal site and click on Special Offers to request a FREE L'Oreal Youth Code sample. You'll be able to print other L'Oreal coupons there too.
Fill out the short form and grab your FREE 5-Hour Energy sample, a $2.99 value!
Go to the Kleenex site, click on the Send a Pack, Get a Pack button, then login or register. Enter your mailing address and a friend's address, and you'll both get a FREE Kleenex Cool Touch sample!