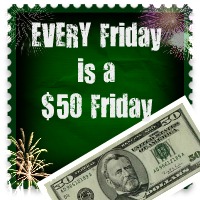 Everyone loves cash, right? How would you like a chance to win $50 every Friday? I'm excited to tell you that I've joined up with an amazing group of bloggers to offer you a weekly cash giveaway!
The giveaway is only open today, so make sure you hurry! This week, we have two separate Friday events; a group A and group B. That means you could win $100, if you're lucky!
This week's $50 Friday will be for Twitter Follows, so to participate, you must follow every blog below, then fill out the entry form. Click "Follow" for every blog:

Follow @gibsoncouponer
Follow @Adventuresof8
Follow @debbiemc18
Follow @swscissors
Follow @CMMStyle
Follow @teachme2save
Follow @carftymomof3
Follow @fruglxperiments
Follow @MartinsvilleMK
Follow @practicalsaving
Follow @ melcoleofpausa
Follow @ShoreSavingsPat
Follow @Gklippingkrazy
Follow @odouglass11
Follow @MommaBranam
Follow @fullpriceNEVER
Follow @goodstewardsvrs
Follow @freebieprincess
Follow @gypsiesthread
Follow @LifeHpnsWitKids
Follow @roxannajolly
Follow @jkrugel
Follow @divineonadime
Follow @iamacouponer
Follow @frugalfinders
Once you've followed all the blogs above, move on to the entry form below. When it asks for the blog you are entering on, type in Frugal Finders. Then, click "I did this" for question #2 after you've followed every blog above.
Good luck, everyone!