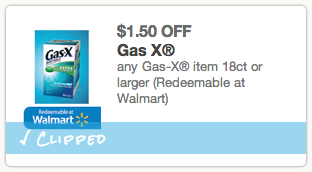 Coupons.com has a couple new digestive care coupons available to print tonight:
$1.50/1 Gas-X Item (18 ct. or larger)
$1.50/1 Ex-Lax Item (24 ct. or larger)
Some Walmart locations carry the Gas-X bonus packs for as low as $3.33, so you can pick those up for just $1.83 after the coupon. Keep in mind that Walmart deals and prices vary from region to region.
Gas-X Bonus Pack (30 ct.), $3.33
$1.50/1 Gas-X Item printable
$1.83 ea. after coupon!
Check out the other Walmart deals before you go.
Thanks I Heart the Mart!