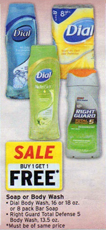 I've heard from some of you about how your local stores are usually out of the great deals you want to pick up. This happens to me quite often as well. I just wanted to take a second to remind you that you can grab a raincheck for the items they are out of, and use them later!
Please note that Walgreens will only write a raincheck for the sale price, NOT for the Register Reward deal. CVS, on the other hand, will write the raincheck and include any ECB information.
Here are a few situations where you'll want to grab a raincheck:
Straight up sale prices
Buy one get one FREE items
In-ad coupons
Monthly Register Reward deals
If you come across any of these deals and the coupons you plan on using don't expire for a few weeks, make sure you grab a raincheck. You can take this back at a later date when the store receives more product.
For instance, this week at Walgreens, Right Guard Body Wash is on sale buy one get one FREE. I went to three stores in my area and all of them were out, so I asked for a raincheck. I can pair the buy one get one FREE raincheck with a buy one get one FREE coupon to get two bottles for FREE!