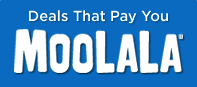 Moolala is one awesome daily deal site! They offer an incredible deal from a local or online merchant every day. Each deal will save you 50-90% off retail.
If you find an offer you like, you can purchase it easily online. The next day, they'll send you a link to print your voucher. You then use the voucher to redeem your deal. It's that easy!
Best of all, these deals are brought to you totally FREE. There's no cost to use the site or to subscribe!
Like most daily deal sites, Moolala does have a referral credit program, but it is very different than most. They will actually pay you cash instead of rewarding you with a credit!
To start with, they'll pay you 2% of the deal value on any purchase you make. If you refer friends, they'll pay you 2% of the deal value your friends buy. You'll also receive 2% on any deal your friends' friends purchase, and your friends' friends' friends' purchase, and so on. It's a 2% 5-level rewards system. And these aren't one-time referral credits. As long as people in your PayMatrix are buying deals, they'll keep paying you!
To get started, just sign up for a Moolala account and start inviting your friends.
The Giveaway
Two lucky Frugal Finders readers will win a $25 Moolala credit towards any deal of their choice!
To enter:
Sign up for a Moolala account through my link and leave a comment stating you did so. (required)
Subscribe to Frugal Finders via email or RSS feed. You must confirm your email subscription for it to be a valid entry!
Follow Frugal Finders on Facebook or Twitter and share the giveaway. Please leave a link to your post in the comment.
Message to Share on Facebook/Twitter
Enter to win a $25 credit to @Moolala from @frugalfinders http://bit.ly/lOmTtI #ffdrs
If you're reading this giveaway post via RSS feed or email, please click here to be directed to my blog to enter. Please do not email me to enter this giveaway; an email is not an acceptable entry.
This giveaway will end on Monday, May 16th at 11:59pm central time. The winners will be selected randomly through the 'And The Winner Is' plugin and will be announced as soon as possible. You must be a U.S. resident to enter this giveaway.
I was not compensated by Moolala for this post. I may receive commission for any sales from the above links. All opinions are 100% mine and were not influenced by other parties.