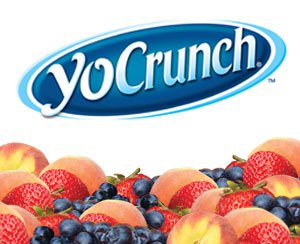 I was recently given a sample of YoCrunch Greek Yogurt to try, and I thought it was great! The taste is amazing, and this is some great yogurt!
Americans continue to search for affordable options to meet a growing desire for Greek yogurt. Many moms are also searching for Greek yogurt options that offer a taste their kids will love.
YoCrunch has introduced the first Greek yogurt with convenient mix in granola topping attached. With 11 grams of protein and a sweeter flavor, YoCrunch's Greek Yogurt is a value that's available in four flavors: Strawberry, Blueberry, Peach and Honey. YoCrunch Greek is an affordable $1.09 to $1.39 per six ounce container as compared to nearly $2 for brands with similar sizes.
It's the perfect choice for moms and kids who want the extra health benefits of Greek, without the tang that many yogurt fans don't enjoy. With 3 to 6 grams more protein than traditional yogurt, it's no wonder Greek yogurt continues to experience growth.
---
Thanks to YoCrunch, three lucky Frugal Finders readers will win assorted YoCrunch product coupons!
You have 4 ways to enter this giveaway. Please leave a separate comment for each entry. All comments must be left here on the blog. Comments on Facebook will be deleted.
What is your favorite kind of yogurt? (required)
Subscribe to Frugal Finders via email or RSS feed. You must confirm your email subscription for it to be a valid entry!
Follow Frugal Finders on Facebook and/or Twitter and share the giveaway. Please leave a link to your post in the comment.
Message to Share on Facebook/Twitter
Enter to win @yocrunch coupons from @frugalfinders http://bit.ly/rui4YV #ffdrs #giveaway
If you're reading this giveaway post via RSS feed or email, please click here to be directed to my blog to enter. Please do not email me to enter this giveaway; an email is not an acceptable entry.
This giveaway will end on Wednesday, July 27th at 11:59pm central time. The winners will be selected randomly through the 'And The Winner Is' plugin. You must be a U.S. resident to enter this giveaway.