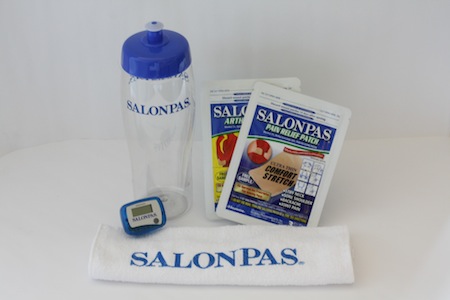 Have you heard of Salonpas Pain Relief patches? I'm sure some of you may have because of the recent deals on them, but if not, here's a little information for you.
Salonpas Pain Relief Patches are the only FDA-approved OTC pain relieving patch on the market. They're comfortable, flexible, and easy to wear. Unlike other pain medicines, these patches last up to 12 hours. They're great for many different types of pains, including muscle and joint pain, arthritis pain, back pain, neck pain, shoulder pain, sprains, strains, and bruises.
Currently, Salonpas is running a great sponsorship opportunity on their Facebook page, where groups can apply to receive workout backpacks, water bottles, T-shirts, and samples for every member of their team! To apply, head over to their Facebook page and click on the 'Get Started' button, then fill out the form.
If you're interested in getting a FREE sample, they are giving those out on their Facebook page as well! Just go here, click on the 'Try Me' tab, then click on the 'FREE Sample' button and fill out the form.
---
Salonpas has graciously offered 5 lucky Frugal Finders readers a Salonpas Running Kit! Each kit contains the items pictured above.
To enter this giveaway, click the 'Enter This Giveaway' button below.
[big_button color="green" desc="Check back soon for the winners!"] Giveaway Closed [/big_button]
Please do not email me to enter this giveaway; an email is not an acceptable entry.
This giveaway will end on Friday, February 4th at 9pm central time. The winners will be randomly selected through Random.org and will be announced as soon as possible. You must be a U.S. resident to enter this giveaway.
Disclosure: This giveaway is sponsored by Salonpas. I received sample products in exchange for this giveaway. All opinions are 100% mine and weren't influenced by other parties.