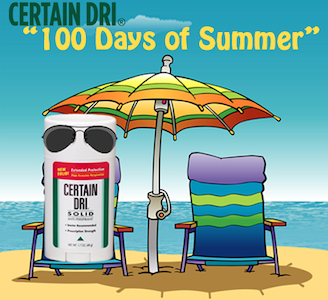 Celebrate the season of fun in the sun every day this summer! For the 100 days from Memorial Day to Labor Day, Certain Dri is giving away one Certain Dri Anti-Perspirant every day. One random entrant will be chosen to receive a Certain Dri Anti-Perspirant (roll-on or solid) each day from May 27, 2011 to September 3, 2011. Every Friday at noon ET, all seven winners from that week will be announced on the Certain Dri Facebook page.
The official entry form and rules are also available on the Facebook page. I promise you'll 'Like' what you see. 😉
Haven't heard of Certain Dri Anti-Perspirant? Here's what you need to know:
The number one over-the-counter antiperspirant recommended by doctors for treating excessive perspiration; more than 40 millions adults and teens believe they have a problem with excessive perspiration.
The strongest available formula without a prescription.
Provides 72-hours of protection with each application.
Retail price of $5.50-$6, almost 30% less than the other clinical strength antiperspirant products.
---
Thanks to Certain Dry, one lucky Frugal Finders reader will win a full size Certain Dri Anti-Perspirant product!
To enter this giveaway, just complete the steps below. Each step is worth one entry.