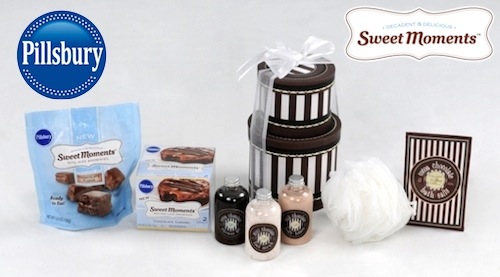 UPDATE: This giveaway is now closed. Congratulations to the winner, Pixie! I'll send you an email in a few minutes.
I was so excited to receive a package from Pillsbury & MyBlogSpark recently! Inside was a Pillsbury Sweet Moments Prize Pack with a sample of Pillsbury Sweet Moments and a chocolate spa kit.
Pillsbury introduces two new ways to enjoy life's little luxuries with Sweet Moments Bite-Size and Molten Lava Brownies! Pillsbury Sweet Moments, now available in the refrigerated baked goods section of your local grocery store, are perfect for indulging any time of the day. The Bite-Size Brownies, which are layered with either rich caramel or fudge and chocolaty coating, are just the right size to grab and go for a quick pick-me-up. And at 60 calories per brownie, they're just enough to satisfy your sweet tooth.
And to reward yourself for a busy day well spent, try a Sweet Moments Molten Lava Brownie, which are served in single-serve bowls and are also available in rich caramel and fudge varieties. Each are covered in decadent chocolate or creamy caramel and topped with a chocolatey drizzle. After only 15 seconds in the microwave, the brownie bowls are warm and ready to enjoy. When chocolate bliss is this easy, how could you resist pausing for a Sweet Moment at the end of your day?
Pillsbury Sweet Moments Prize Pack Giveaway
Thanks to MyBlogSpark and Pillsbury, MyBlogSpark will also be providing one lucky reader with a Pillsbury Prize Pack! The winner will receive a VIP coupon for the new Pillsbury Sweet Moments and a chocolate spa kit!
Entry Methods
Each step counts as an entry, so you can get a total of 3 entries!
Which of the new Pillsbury Sweet Moments desserts are you most excited to try?
Subscribe to Frugal Finders via RSS feed or email. You must confirm your email subscription for to to be a valid entry. If you already subscribe, just let me know…and thanks for subscribing! My subscribers make these giveaways possible.
Follow Frugal Finders on Facebook.
If you're reading this giveaway post via RSS feed or email, please click here to be directed to my blog to enter. Please do not email me to enter this giveaway….an email is not an acceptable entry.
This giveaway will end on Monday, September 6th at 6pm CST. The winners will be selected through Random.org and will be announced as soon as possible. You must be a U.S. resident to enter this giveaway.