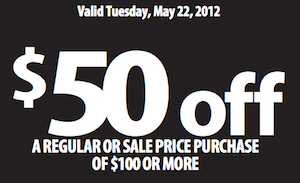 This deal has expired, but make sure to check out the Herberger's coupon codes below!
Coupons procured by Savings.com
Wow! Check out this high value Herberger's coupon! On Saturday, June 30th only, you can save $50 off a $100 purchase. The best part – this coupon include regular and sale price merchandise! You should be able to get some great deals after this coupon.
There are a few exclusions, so make sure to read the fine print on the coupon.