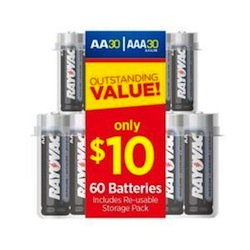 Here's a great deal on batteries! I'm sure you will need lots for the toys, since most don't come with batteries. Get 60 Rayovac batteries (30 AA and 30 AAA) for only $9.97 at Home Depot!
To find these, just enter item number 558323 in the search box. These are only available for in-store pickup, but that means FREE shipping for you!
Looking for more Home Depot coupon codes? Check out my online coupon codes database!
Thanks, Surviving the Stores!