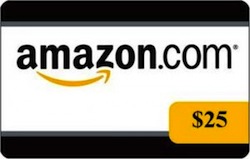 itsThoughtful.com is offering up FREE $25 Amazon gift cards! All you need to do is sign up for the $500 Christmas Gift Contest on itsThoughtful.com. You'll receive an email after your account has been created with a confirmation link you'll need to click. Start spreading the word about their $500 Christmas giveaway via email, Facebook or Twitter. Refer 15 friends who sign up by December 20th and you'll get a FREE $25 Amazon gift card!
Offer Details:
Only referrals that sign-up between November 20, 2010 and 11:59 p.m. on December 15, 2010 will be eligible.
All referrals must confirm their email address to be eligible.
All winners will be notified via email on December 18, 2010 and posted on itsThoughtful.com. In addition, all gift cards will be emailed to the winners on December 18, 2010.
Giveaway rewards (gift cards) are limited to four hundred. If more than four hundred users are eligible for the prize, itsThougthful.com will randomly draw four hundred winners. If a random drawing is required, every 15 eligible referrals will count as one entry.
Thanks, Hip2Save!