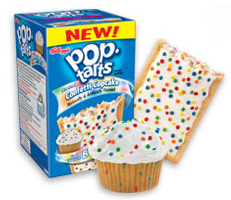 Coupons.com released a few new coupons that should make for some great deals when paired with in-store sales and promotions! Here are the new coupons I saw:
Kellogg's Coupons
$0.70/1 Kellogg's Pop-Tarts Confetti Cupcake Toaster Pastries (zip 77477)
$0.70/1 Kellogg's FiberPlus Nutty Delight Bars (zip 77477)
$1/2 Kellogg's Corn Flakes, Kellogg's Crispix, and/or FiberPlus Cereals (zip 33033)
$1/3 Kellogg's Pop-Tarts Toaster Pastries and/or Mini Crisps (zip 33033)
Keebler Coupons
$1/2 Keebler Crackers (zip 33033)
Sunbelt Coupons
$0.75/1 Sunbelt Bakery Product (zip 84121)
Wondering how to change the zip code on Coupons.com? Click on the Local Coupons tab, change the zip code there, then return to the Coupons tab.