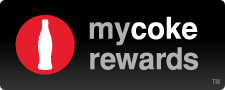 Yay! My Coke Rewards just announced a great new giveaway called the Million Point Giveaway! During the Million Point Giveaway, My Coke Rewards is thanking its members by awarding thousands of FREE points every day that people can redeem for things such as portable DVD players, gift certificates and FREE Coca-Cola products! My favorite! 🙂
Simply go to MyCokeRewards.com now through September 30, 2010 and enter a code from a fridge-pack from your favorite participating Coca-Cola beverage. You'll receive the usual 10 points + an invitation to enter the promotion for an instant chance to win! Winners are notified immediately, and with more than 1,300 winners every day, more than 79,000 My Coke Rewards members will win points over the course of the two month promotion! One lucky winner also will be awarded a 1,000 point shopping spree each day and a grand prize winner will be awarded 10,000 points each week!
If that wasn't enough already, My Coke Rewards is also releasing a catalog of limited-edition rewards, including an HD digital video camera, 15-inch widescreen HDTV, mountain bike and more!
So what are you waiting for?! Start entering those fridge-pack codes and let us know if you're a winner!
Thanks, Cydney!