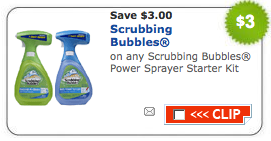 There are even more coupons on Coupons.com this morning! All of these coupons can be found using zip code 07039 unless otherwise noted.
$3/1 Scrubbing Bubbles Power Sprayer Kit
$1/1 Scrubbing Bubbles Power Sprayer Refill
$1/2 Frosted Mini Wheats
$1/1 Land o Lakes Cheese
$1/1 Angel Soft 12 Double Roll
$0.55/1 Bridgford Frozen Rolls/Bread Dough/Monkey Bread
$1/4 Old Orchard Frozen Concentrate
$1/1 Opti Free
$5/1 Enfagrow Formula
$1/2 Healthy Balance Reduced Sugar Jice
$1/1 Lactaid Cottage Cheese
$0.75/1 Sara Lee Sweet Goods
$1/2 Chi Chis Products
$0.50/1 Minute Rice Products
$1/1 Caribou Coffee
$1/1 Lactaid Milk
$1.50/1 Purina Moist & Meaty
$0.50/1 Fleischmann's Pizza Crust Yeast
$0.80/4 Green Giant Vegetables (zip code 30015)
$1/1 Filippo Berio Olive Oil (zip code 30210)
Thanks, Living Rich With Coupons!