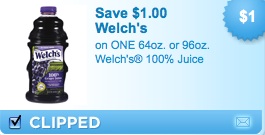 There are 2 new coupons available on Coupons.com:
Save on one 64oz. or 96oz. Welch's 100% Juice
Wait for a sale and you should be able to get juice for less than $0.99 after the coupon!

Save $1 on the purchase of any two Stove Top Stuffing Mix Products
Stove Top Stuffing is priced at around $1.25 at Walmart and Target, so only $0.75 per box after the coupon!
**********************************************
You can also print $12 worth of Nestle Product coupons:
The coupon link is in the bottom center of page. To access the coupons, you'll need to login or register.
$1 off any 2 Nestle Juicy Juice Products
$1 off any two Nestle Toll House Refrigerated Cookie Dough or Brownie Dough Products
$1 off one Stouffer's Family, Large Family, Party Size, or Skillet Entree (23oz-96oz) any variety
$1 off any two cans of Nestle Carnation Evaporated Milk
$1 off any two Nestle Pure Life Purified Water Mulitpacks (20-pack or larger)
$1.25 off one Nestle Nesquik Powder
$1 off any two packages of Nestle Toll House Morsels (10oz or larger)
$2 off any one BOOST Kid Essentials Nutritionally Complete Drink Mix Multipack
$1 off any one Carnation Instant Breakfast Essentials Product
$1 off two Wonka Bags or Nestle Butterfinger, Nestle Crunch, or Nestle Baby Ruth (fun size or miniatures)
$1 off one OVALTINE product, any size, any flavor
Thanks, Hip2Save!