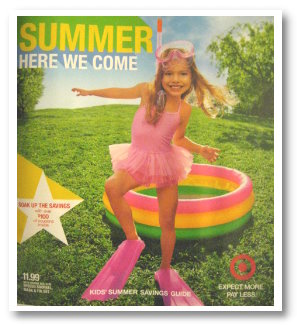 Some of you may have already gotten a new Summer Home Mailer Coupon Book from Target! The good news is these identical coupons just showed up on the Target site so we can all print them! The printables are all valid until 6/13. I was only able to print them once.
Strawberry Shortcake Nexcare ComforPals, $1.77
(These are included in the NexCare sale until 5/15)
Use the $0.50/1 Nexcare Kids Bandages (20 count or +) Target coupon
Use the $1/1 NexCare product printable coupon
Final cost: $0.27 each!
Identical Coupons from Mailer and Printables:
$25 off Intex Heavy Duty Pool
$5 off a $25 or more Barbie Purchase
$5 off a $25 or more Nerf Purchase
$5 off $15 or more Speedo product
$10 off a Schwinn, Mongoose, or Tony Hawk Bike
$4 off a $25 Banzai purchase (Water Slide or Sprinkler)
$40 off  Banzai Wave Breaker or Banzai Splash Blast Water Slide
$0.75/1 Kids Band-Aid Product 20 count or More
-$0.50/1; $1/1 Band-Aid Adhesive Bandages Product, 4/25 SS
-$0.50/1 Band-Aid Product (Excludes Trial Size), 3/14 RP (expires 5/31)
$1 off Children's Tylenol
-$3/2; $1/1 Tylenol (Infants' or Children's) Products (Excluding Trial Size), 2/21 RP (expires 5/31)
$0.50/1 Wet Ones 40 count or more
$1 off Children's Zyrtec (excluding trial size)
-$3/1 Children's Zyrtec, 5/2 RP
–$4 off one Children's Zyrtec Perfect Measure Allergy Product (except trial size) printable coupon
–$2 off any Zyrtec product (14 count or smaller) printable coupon
-$2/1 Children's Zyrtec, 3/21 RP (expires 5/21)
$0.50/1 Nexcare kids bandages 20 count or more
-$1/1 NexCare Product printable coupon
-$0.55/1; $1/2 Nexcare Product, 4/11 or 5/2 SS
$10 off a Ground Force Drifter, Siege Caster Scooter, or Sole Skate Razor product
$5 off a $30 Kids Apparel purchase (Circo & Cherokee shown but no exlusions in wording)
$3 off Lego City Fire Truck, Prince of Persia Ostrich Race set, or Toy Story 3 Lots-O Dump truck
Thanks, Totally Target!