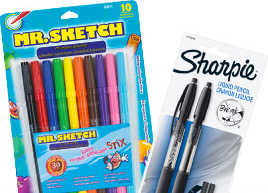 OfficeMax is currently offering writing supplies that are FREE after 100% MaxPerks Rewards! You'll pay full out of pocket price for these items, and you'll get 100% back in the form of MaxPerks Rewards. You have to be a MaxPerks Rewards member to get these freebies.
Spend $50 or more, and you'll get FREE shipping as well!
FREE After MaxPerks Rewards Items:
Mr. Sketch Markers, $5.29
Sharpie Accent Highlighters, $4.79
Sharpie Liquid Pencils, $4.99
Liquid Paper Dry Line Correction Tape, $10.89
Mr. Sketch Water Color Markers, $8.79
All items are limit 2.