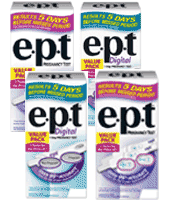 The $5 off any EPT Pregnancy test coupon is back again! It's a Bricks coupon, so you can print two here: IE or Firefox.
*Here's a little Bricks trick:
If you have an IE coupon and want to print it in Firefox, change the 'wi' in the middle of the link to 'vg'. You can also go the other way and change it from Firefox to IE by changing the 'vg' to 'wi'.
Thanks, SwagGrabber!