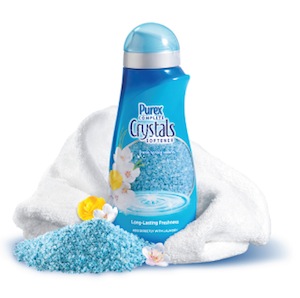 This giveaway is now closed. The winners will be announced soon.
I had the chance to try a sample of the new Purex Crystals, and I think they're awesome! Purex Complete Crystals Softener is a purer way to get laundry that smells clean and fresh for weeks. The crystals are 92% natural, and instead of coating fabrics with oily residue, they infuse fibers with long-lasting fragrance. Also, since you add it directly with your laundry, this means no more waiting for the rinse cycle, and no more stains from spilling liquid fabric softener!
Purex Complete Crystals Softeners are safe for all laundry and won't harm, wear down or discolor your fabrics like other softeners. The crystals are safe for all fabrics, including baby clothes, athletic wear, towels, and whites. Crystals will:
Preserve the flame retardant benefits of your children's clothes
Retain your athletic wear's wicking ability which draws sweat away from your body
Maintain your towels' built-in ability to absorb water
Keep your white clothing from yellowing and graying vs. using traditional softeners
Purex Crystals will become available at Walmart on December 28th, and other retailers will start carrying it in January and February.
---
Purex wants you to try their new Crystals products, so they're offering 3 Frugal Finders readers a coupon redeemable for a FREE bottle of Purex Crystals!
To enter this giveaway, click the 'Enter This Giveaway' button below.
This Giveaway is Closed
Please do not email me to enter this giveaway; an email is not an acceptable entry.
This giveaway will end on Friday, January 7th at 9pm central time. The winners will be randomly selected through the Comment Contest plugin and will be announced as soon as possible. You must be a U.S. resident to enter this giveaway.
Disclosure: This giveaway is sponsored by Purex. I received a sample and coupon in exchange for this review. All opinions are 100% mine, and the sponsor did not edit this post.