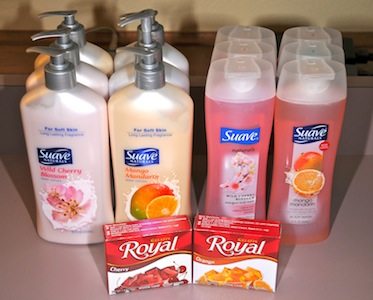 My main Walgreens trip for the week.
This week, I did quite a bit of shopping. We took a trip to Southdale on Wednesday, and I made a quick trip to Target and Walgreens while we were there. Despite all the shopping, I think I saved quite a bit. I purchased most of these items for others in my family.
In total:
Retail cost: $362.78
Amount saved: $329.49
Amount spent: $46.33
91% savings!
Bath and Body Works
Retail cost: $152.50
Amount saved: $131.85
Amount spent: $30.65
86% savings!

CVS
Retail cost: $39.04
Amount saved: $37.52
Amount spent: $1.52
96% savings!

Target
Retail cost: $22.02
Amount saved: $19.00
Amount spent: $3.06
86% savings!

Walgreens
(Picked up some of the cheap L'Oreal lip glosses)
Retail cost: $118.14
Amount saved: $114.40
Amount spent: $6.74
97% savings!

Walmart
Retail cost: $31.08
Amount saved: $26.72
Amount spent: $4.36
86% savings!
How did you do this week? Link up to your post in the linky below or leave us a comment!