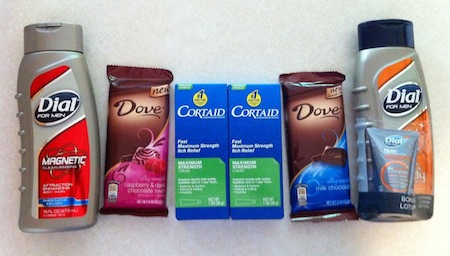 This week, I made it to quite a few stores! I bought a few of those yummy candy bars pictured above, and also bought some dog treats to donate. Here's an overview of my savings and spending!
In total:
Retail cost: $210.60
Amount saved: $197.06
Amount spent: $13.54
93.6% savings!
CVS
Retail cost: $27.75
Amount saved: $27.74
Amount spent: $0.01
99.9% savings!

Walgreens
Retail cost: $115.29
Amount saved: $102.32
Amount spent: $12.97
88.8% savings!

Target
Retail cost: $11.98
Amount saved: $11.08
Amount spent: $0.90
92.5% savings!

Walmart
Retail cost: $31.66
Amount saved: $32
Amount spent: -$0.34
101.1% savings!
(Overage was absorbed by tax)

Kmart
Retail cost: $29.90
Amount saved: $29.90
Amount spent: $0
100% savings!

How did you do this week? Link up to your post in the linky below or leave us a comment!