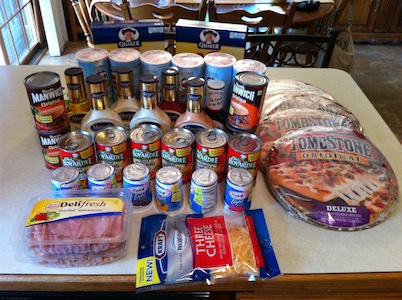 We just got back from the first day of double coupons at Coborn's! If you haven't already seen my posts with the deal lists, be sure to check them out…there are a few freebies this week!
Besides Coborn's, I stopped at a few stores this week to make use of expiring ECBs and Register Rewards. Check out our overall savings for this week:
Retail cost: $187.39
Amount saved: $160.72
Amount spent: $26.67
85.8% savings!
CVS
I had to make use of a few expiring ECBs this week.
Retail cost: $25.94
Amount saved: $25.44
Amount spent: $0.50
98% savings!

Walgreens
Retail cost: $29.92
Amount saved: $27.92
Amount spent: $2
93% savings!

Target
Retail cost: $21.10
Amount saved: $21
Amount spent: $0.10
99.5% savings (after gift card reward)!

Walmart
Retail cost: $1.64
Amount saved: $1.64
Amount spent: $0
100% savings!

Coborn's
I used a few FREE product coupons on this trip
Retail cost: $108.79
Amount saved: $84.72
Amount spent: $24.07
77.9% savings!
How did you do this week? Link up to your post in the linky below or leave us a comment!