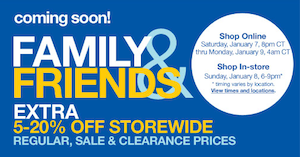 This deal has expired, but make sure to check out the latest Sears coupon codes below!
Coupons procured by Savings.com
With the holidays winding down and a New Year ahead, Sears is offering great deals for those looking to set resolutions for a healthy 2012!
Sears is holding the first Family and Friends Sale of the year and there's an extra 10% off of Fitness Equipment! There are other great deals to be had as well:
Up to 20% off Kenmore appliances as well as apparel
Extra 10% off of floor care and tools
Additional 10% off of mattresses
The online sale begins Saturday, January 7 at 8pm CT and ends Monday, January 9, at 4am CT. The in-store sale is on Sunday, January 8, from 6-9pm.
Don't forget to download and print your special savings passes too!