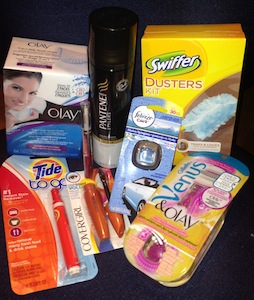 One of my favorite days to grab a couple extra copies of the newspaper is towards the beginning of the month – when the P&G brandSAVER coupon insert is inside! This insert is filled with great coupons for brands like Tide, Swiffer, Febreze, CoverGirl, and Crest. And if you missed the last P&G brandSAVER, check out their new printable coupons!
P&G brands such as CoverGirl, Dawn, and Swiffer have quickly become some of America's "Most Loved" home, beauty, and grooming staples. They have received hundreds of awards and continue to be trusted for quality.
I was recently sent a great bundle of P&G products and was very excited for it to arrive. I've been using P&G products for almost my entire life! Some of my favorite P&G brands are Tide, Gillette, and Febreze, but this bundle allowed me to try some of their newer items.
For example, I was able to try out the Febreze Car Vent Clips. These are very simple to use and keep your car smelling fresh for up to a month!
The best part is the P&G brandSAVER coupon insert often contains coupons for these car vent clips. After combining these coupons with a sale, I walked away with a very inexpensive way to keep the car smelling fresh.
Another P&G brand that we love is Tide. We sometimes purchase other brands of detergent, but feel that Tide does the best job of getting clothes clean, white, and smelling fresh. Whenever there's a good deal on Tide with the P&G brandSAVER coupons, we always stock up!
"E! News" co-anchor, Terrence 'J' Jenkins, shares his P&G experience in the video below.
Can't see the video? Click here to watch.
The Giveaway
This April, P&G wants to celebrate some of their award-winning brands by sharing the love with Frugal Finders readers!
One lucky Frugal Finders reader will win a P&G bundle, a $55 value!
The bundle includes several of P&G's award-winning and "Most Loved" products to care for your home, your clothes, your car, your hair and even your body.
Bundle Includes*:
*Products may vary based on availability.
To enter for a chance to win this bundle, simply fill out the Rafflecopter form below. If you're reading this post via RSS feed or email, please click here to see the entry form.
a Rafflecopter giveaway
Disclosure: I received the products shown above from P&G in order to facilitate my review. No other compensation was received. The opinions on this blog are my own.
By entering the contest, you are accepting that if you win, your contact information will be shared with a P&G PR agency for the purpose of mailing your prize.