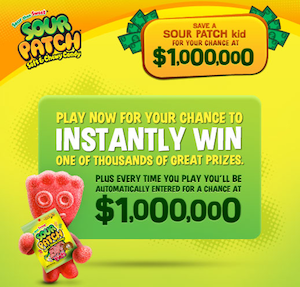 Sour Patch Kids has a new instant win game available on their Facebook page! Just click on the 'Instant Win' tab, and you'll be able to enter to win one of 9,500 coupons for a FREE 8oz or smaller bag of Sour Patch Kids. 1,500 will win a Sour Patch Kids T-Shirt, 1,000 will win a $25 GameStop gift card, and there are more great prizes!
Sour Patch Kids is on my list of favorite candies! I always get these at the movie theater or when they're on sale at Walgreens. What's your favorite candy?
Thanks, Savings in Seconds!