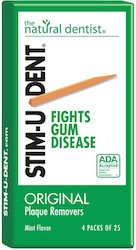 Right now, you can try Stim-U-Dent for FREE! If you haven't heard of these yet, they're little wooden cleaning tools for your teeth. They've actually been shown to work better than floss in reducing plaque, gingivitis and bleeding gums! Clinical studies also show a 52% improvement in gum health when using Stim-U-Dent.
Head over to the Stim-U-Dent Facebook page and 'Like' them. You'll then be able to fill out a form to print your mail in rebate. Surprisingly, the rebate is valid for up to two packs of Stim-U-Dent! You can find these products at Walgreens stores.
Purchases must be made by 8/31/12, and your rebate will need to be postmarked by 9/14/12. Allow 6-8 weeks for processing. Limit one rebate per name/household/address. Photocopies of receipts will not be accepted.