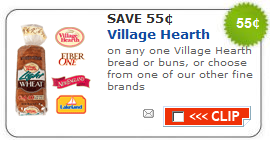 Bread coupons are hard to come by, so I'm happy to say there are two new bread coupons available:
$0.55/1 Village Hearth bread or buns or choose from one of our other brands
Other brands include: Country Hearth, Lakeland, Fiber One, New England, Kid's Choice, Holsum, Pan O Gold and Family Choice.
$0.55/1 Loaf of Country Hearth Bread
If you don't see these coupons, try using zip code 53073.
Thanks, Common Sense With Money!