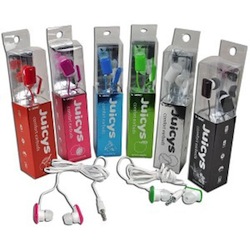 Yay! More FREE headphones! Tanga.com is offering a FREE 2 Pack of Vibe Juicys Comfort Earbud Stereo Headphones. All you have to pay is $4.99 for shipping. That makes each pair just $2.50.
Colors will be selected at random, but they will try to make sure you get a variety.
These earbuds will have you set for life! With six different fruit-themed colors, your earbuds are sure to turn heads. Whether you need privacy when listening to your MP3 player, stereo, CD player, portable gaming device, or even your Mac/PC, look no further than VIBE Juicys Comfort Stereo Earbuds!
Grab Your FREE Earbuds