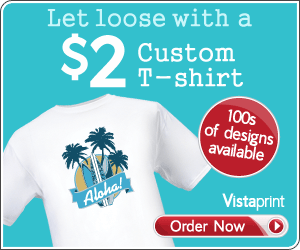 UPDATE: Shipping costs have been lowered to $4.14!
For a limited time, Vistaprint is offering a custom T-shirt for just $2! The T-Shirts are made of 100% pre-shrunk cotton and are available in sizes from S to XXL and in ladies sizes. Choose from over a thousand designs and add your own text to make your design unique.
You'll still have to pay around $4.14 in shipping, so your total will be around $6.14 shipped. That's still a great price for your own customized T-shirt!