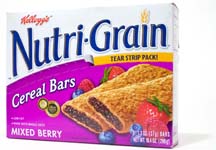 Here are three new Walgreens deals:
$2 RR wyb 2 Kellogg's Nutri-Grain Bars, on sale 2/$5
Use 2 $1/1 coupons from the 7/11 RP (your area may have received $0.75/1 coupons)
Pay as low as $3
Get back a $2 RR
Final cost: as low as $0.50 each!
**If your area got $0.75/1 coupons, your final cost will be just $0.75 per box!
Salonpas Hot Patch, $0.99 with in-ad coupon
Use the $1/1 coupon from here or here (new link!)
Final cost: FREE!
$1 RR wyb 2 Dixie or Dixie Ultra Paper Plates, 2/$6
Use the $1/2 coupon from here
Pay $5
Get back a $1 RR
Final cost: $2 each
Thanks, Hip2Save and Wild for Wags!