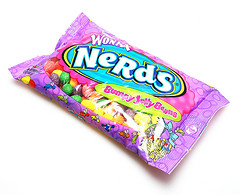 There are 2 new Easter candy coupons on Coupons.com:
Save $1/2 bags of Wonka Jelly Beans (including SweeTarts, Spree and Nerds Bumpy Jelly Beans)
Save $1/2 bags of Nestle NestEggs
**These coupons don't expire until 4/4/2010, so we'll have plenty of time to make use of them. Hopefully there will be lots of in-store deals available on these products as we get closer to Easter!
Thanks, Hip2Save!