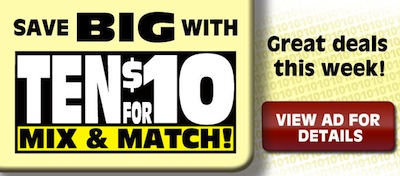 This is the last week of the Coborn's 12 Weeks of Savings, and the last week of double coupons! 🙁
I will be posting a list of all the deals after double coupons on Thursday or Friday, so be sure to check back for that!
Coborn's is also running their 12 weeks of savings promo again! Here are the deals you can score every week through 9/24/11:
Monday: Food Club Spring Water (24 pack .5 liter bottles), $2.77 (limit 2)
Tuesday: Coborn's Rotisserie Chicken, $5 (limit 1)
Wednesday: Bananas, $0.47/lb
Thursday: Freschetta Pizza (12.8-28.01 oz), $3.99 (limit 2)
Friday: Food Club Jumbo Hot Dogs, $1 (limit 2)
Coborn's Hot Dog Buns (8 count), $1 (limit 2)
Saturday: Double coupons (see above for details)
Sunday: Kemps Orange Juice (half gallon), $1.99 (limit 2)
Click below to see all the Coborn's deals for the week of 9/18-9/24/11.
This list has expired. See my coupon matchups page for current lists.
This post is part of Dealicious Finds: Nationwide.