Here are the Coborn's deals available this week! This week's top deals are marked with a yellow star and appear in red.
Make sure to sign up for the Coborn's email list! Every week, you'll receive a coupon for a free item with a $10 purchase at Coborn's.
Download the Favado app to your smartphone and view these sales on the go! You can make your own shopping list, compare prices between stores, get alerted when your favorite products go on sale, and much more. Click below to sign up and download the app.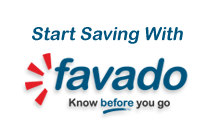 Coborn's Resources: