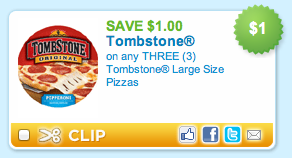 Lots of new coupons have been released recently! Here are the new ones I've seen:
New Coupons.com Coupons
$1 off Gold Peak 18.5 oz bottle, any flavor
Target has these priced around $1.02, so as low as 2¢ after the coupon!
$1 off three Tombstone Large Size Pizzas
$0.55 off any Flatout brand product
$3 off Coromega Omega-3 Squeeze products
$1 off 1 Garnier Fructis Style Product
$3 off when you buy Zookeeper on Blu-ray
$1 off 2 Campbell's Slow Kettle Style soup
$3 off any 1 Refresh Brand Product, any size
$0.75 off any Effergrip Denture Adhesive product
$1.50 off 1 ex-lax product
$0.50 off Scotch-Brite Botanical Disinfecting Wipe
$3 off 2 Triaminic OR Theraflu Products
$0.40 off 3 Campbell's Condensed soup
$1 off one Baby Lips Lip Balm
New All You Coupons
$1/1 Heartland Gluten Free Pasta
$0.50/1 Pillsbury Baking Kit
$1/1 Garden of Eatin' Product
$1/1 Half Gallon of 8th Continent Soymilk
Share your rock star mom tips on the Share a Tip tab.