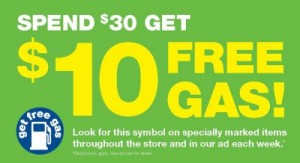 Yay! CVS has just started a new gas program. You'll get a FREE $10 gift card to Exxon/Mobil, Shell, BP Amoco or BP Arco whenever you spend $30 on specially-marked items. Look for the "get FREE gas" icon in the weekly ad.
Once you reach the $30 minimum, a coupon will print on your receipt that can be redeemed immediately for a $10 gas card.
I've heard that this is not tracking on your card right now. In other words, your $30 purchase must be in one transaction.
Coupon must be redeemed within 30 days for the gas card. Limit one redemption per week. Promotion begins May 22 and runs through August 28.
Thanks, The Thrifty Mama!