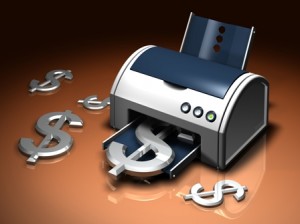 Can I print more than one?
Most coupon sites do have a maximum allowed, however it is normally more than one! The easiest way to print more from any site is: After the screen comes up that it is "Sending coupons to printer…", wait until your printer stops, then hit the backspace key or hit the back button to go back one page. You will see the icon come back that says "Sending coupons…" and it will send another set to your printer. Most sites only allow to do this once though for a maximum of two coupons.
Once I have printed a coupon, can I ever get it again?
That's a mixed answer. Most of the time, yes. Once you have reached your maximum for your computer, you have to wait for the coupon provider to "reset" the coupon, meaning they clear out who has already gotten it and open it back up for everyone. Some sites do this monthly and some are done more frequently. There is no way to know other than checking back every now and then.
How do I know if my store accepts printable coupons?
Most every grocery and drug store corporate policies state that they accept printable coupons, but there are a few stores that don't like to follow the rules. If you have a problem, call the national customer service line for the store and they will email you their policy. Print off the policy and take it the store manager to refresh them.
Here are some that are available online:
From Walmart:
Walmart stores can accept coupons that are available on the Internet for customers to print from their home computers. The following are guidelines for the stores for accepting Internet coupons:

The coupon should be legible and say "Manufacturer Coupon". There should be a valid remit address for the manufacturer to ensure the coupon can be processed for payment.
The coupon should have a scanable bar code
The coupon should have an expiration date.
The coupon cannot be a photocopy.
The limit is one coupon per item, per customer.
A salaried manager can refuse to accept a coupon if it does not meet any or all of these guidelines.
From Target:
Coupons are a great way to save even more when shopping at Target, and we make it easy to use them at our stores. But, because of the variety of coupons available to our guests, we do have some guidelines for how coupons can be redeemed at Target:

We accept two kinds of coupons: Target-issued coupons and manufacturer-issued coupons.
We'll accept one Target coupon and one manufacturer coupon for the same item, unless either coupon prohibits it.
We can't give cash back if the face value of a coupon is greater than the purchase value of the item; in that case, we'll adjust the value of the coupon to equal the price of the item.
We can't accept coupons from other retailers, or coupons for products not carried in our stores.
All valid coupons should be presented to the cashier at the time of sale.
What is stacking?
If you have a store coupon (ex. Target) and a manufacturer's coupon, you can use both! You cannot use two manufacturer's coupons or two store coupons for the same product though.