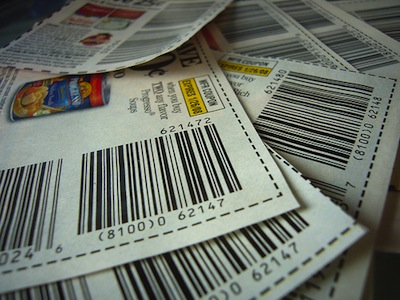 So now that you know the basics of coupons, when do you use it? One of the biggest complaints about couponing I hear is the items with coupons are more expensive anyway. Usually, they are – regular price. So don't just use a coupon because you have it or because it is about to expire. Use it when the item is on sale for a low price, there is a Walgreens Register Reward deal, a mail in rebate, or another offer! This is how you can get brand name items cheaper than their generic counterparts.
Coupon Expiration
Don't feel bad about letting other coupons expire. You may be tempted to use that $1/1 coupon just because it expires today but usually when it expires, another one will be coming in the paper! So unless it's a FREE coupon or a coupon that makes an item very cheap, don't use it because it's about to expire.
Rock Bottom Prices
Use your coupon when the sale price is the lowest possible price. This will maximize your coupon usage. Some track their 30 top items with a spreadsheet. I have my lowest price I will pay for certain items all stored in memory. For example, I never pay more than $0.25 for a tube of toothpaste. Even that is too much when we have 15 already in our stockpile. If you aren't brand specific, almost every week you can find a toothpaste for FREE at one of the drug stores.
Doubles
Use your coupons at stores that double to make your coupons go further. Check your store for details, but many stores will double coupons up to $0.50 – valuable for those lower value coupons!
Stacking
Many stores allow "stacking". This is the coupon terminology used to associate using a manufacturer's coupon with a store coupon. This allows for a deeper discount on a product. You can tell if your coupon is a manufacturer's or store coupon by looking at the top of the coupon. Target and Walgreens as well as other stores allow this type of stacking.